Clean, simple and uncluttered- These words clearly define pixel 4a. Google's new phone will launch soon in India. Importantly, the pixel 4a will be a unique smartphone in terms of its pricing. Hence, you can expect a good mid-range option with the pixel 4a release.
Along with a simple design, the pixel 4a has some handy specifications. So, without further ado, take a look at the latest Google smartphone offering: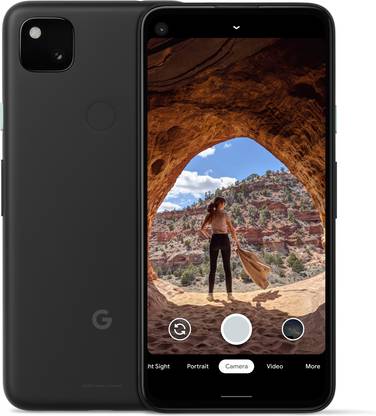 GOOGLE PIXEL 4A TECHNICAL SPECIFICATIONS
| | |
| --- | --- |
| Model name | Google Pixel 4A |
| Weight | 143 grams |
| Screen Size (Display) | 5.81 Inches |
| Screen Resolution | 2340 x 1080 Pixels |
| GPU | Adreno 618 |
| Processor make | Qualcomm Snapdragon 730G |
| RAM | 6 GB |
| Internal storage memory | 128 GB |
| Rear Camera | 12.2 MP |
| Front Camera | 08 MP |
| Battery capacity | 3140 mAh |
| Operating system | Android 10 |
| Price in India | ₹ 30,000/- (Approximately) |
---
PIXEL 4A FIRST LOOK
First and foremost, the pixel 4a is made for customers who prefer simple designs. The phone is compact. Furthermore, it weighs around 140 grams. Hence, the weight will never be an issue for users.
In terms of the overall aesthetics, Google has kept things simple. Hence, customers who prioritize a neat device will certainly admire this smartphone. The front portion of pixel 4a is highly consistent. You won't witness any physical buttons or finger-print sensor here. The selfie camera is located at the corner. Thus, the phone receives a modern look.
The rear portion of this phone is, indeed, plain. The body is made up of polycarbonate plastic. The fingerprint sensor is located on the rear panel and there's a beautiful Google symbol too. The rear camera setup is included in a rounded rectangle configuration style. Nevertheless, it does not occupy a huge space. Above all, if you want something different than the all-black look, protective cases are the best bet for this phone.
---
HOW IS THE SCREEN AND DISPLAY?
The Google pixel 4a is an upgraded model when compared with pixel 3a. The display is full HD with an aspect ratio of 19.5:9. Therefore, you can expect good video quality from this Android smartphone. Unlike other flagship or some mid-range smartphones, the pixel 4a does not have the latest gorilla glass protection.
This Google phone comes with Corning gorilla glass 3. Despite this fact, it can withstand scratches and impacts. On the whole, the screen is compact and the display is bright. Therefore, the display justifies all the requirements from a mid-range smartphone. In some cases, it exceeds the expectations.
---
WHAT ABOUT THE CAMERA?
When it comes to Google Pixel smartphones, the quality of cameras stands out from other manufacturers. In the same way, the pixel 4a release maintains this high standard. So, do not judge any phone based on theoretical specifications.
I know what you're thinking – 'Is a 12.2 MP rear camera sufficient to take good photos?' The answer to that common question is YES! Basically, Google is well-known for providing the best camera performance in their pixel smartphones. Similarly, the single-lens rear camera of pixel 4a is an impressive tool to capture great images.
Furthermore, you get the ability to record in RAW DNG format too. The image processing plays a huge part in actual photo output. Hence, Google phones excel in this department. In conclusion, you can get smartphones with higher camera specifications at this price. But, it should be noted that the actual image quality depends on more than one factor.
The front selfie camera generates good colours. The bokeh effect photos look, indeed, marvellous. Therefore, both front and rear cameras have good performance.
GENERAL TIP: The best way to research the camera performance of different smartphones is to download the sample images. This way, you can compare the quality of photos without relying entirely on the technical specifications.
HARDWARE AND OTHER DETAILS
Let me quickly sum up all the vital hardware and processor details of the Google Pixel 4a:
Qualcomm Snapdragon 730G is an impressive processor which handles many tasks efficiently. In addition to features like integrated LTE and NX bit, this processor is good for gaming.
6 GB RAM is competent in handling multiple tasks.
Google has kept things easy with a 3.5 mm audio jack.
The USB slot is type C.
There is only 1 nano-SIM slot in this smartphone.
THE BATTERY
A 3140 mAh battery might give you a full day performance. Of course, the battery backup depends on a customer's usage. Hence, it is always a subjective topic of discussion. On the contrary, many customers are used to the 4000 mAh to 6000 mAh battery specifications. While it may be true that high battery capacity gives good power backup, software optimization plays an important role too.
In terms of a supporting accessory, the 18W charger can prove handy for quick charging.
However, it is important to realize that the pixel 4a does not support wireless charging.
SOFTWARE DETAILS
The Google Pixel 4a runs on stock Android 10. Users can get timely updates for 3 years. Hence, you won't have to worry about pre-installed bloatware in this device. The pure Android user interface looks sleek.
Importantly, the stock Android interface enhances many performance aspects of any smartphone. You can get better battery optimization, good synchronization with Google apps and effective UI performance.
---
GOOGLE PIXEL 4A PROS AND CONS
| | |
| --- | --- |
| PROS | CONS |
| Attractive pricing. | Medium battery capacity. |
| Elegant design & compact size. | No memory card slot. |
| Impressive cameras. | Available only in 1 colour. |
| Good software stability. | No wireless charging. |
---
THE CONCLUSION
The Google Pixel 4a is definitely a good mid-range option to consider. The internal storage capacity, RAM and processor are splendid. This device has impressive capabilities with minor drawbacks. For instance, the internal storage capacity is sufficient to compensate for the absence of a memory card slot. Furthermore, the compact size is a welcome change at this time. In addition to the impressive utility, users who prefer an uncluttered hardware & software will enjoy this smartphone.
Therefore, if you have a budget of around ₹ 30K, the pixel 4a can be a potential all-round smartphone to buy.